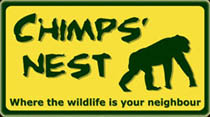 Welcome to our website!
We have built a lodge on the border of Kibale Forest, on a beautiful piece of land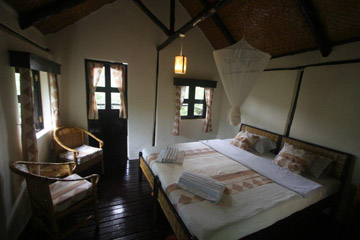 with a splendid view of Kibale Forest and the snow capped peaks of the Rwenzori Mountains As the name implies, Chimps' Nest is often visited by monkeys, chimps, and forest elephants.
Chimps' Nest is a true birder's paradise; virtually all 350 bird species of Kibale Forest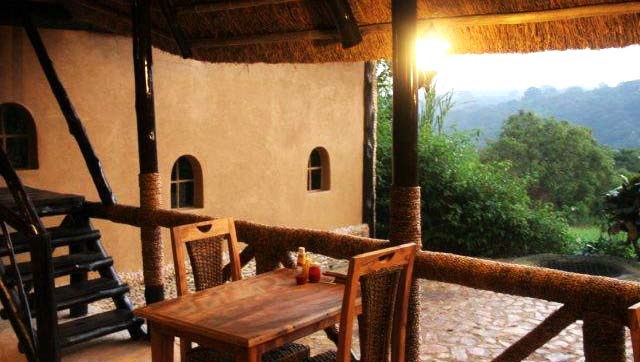 and the bordering Bigodi Swamps can be observed on the premises. Explore our private walking trails through the forest and witness it all for yourself! We also offer night walks, with high chances of seeing bush babies and the other animals of the night.
The lodge is situated near Nyabubale, a small village between Nkingo and Bigodi. It's only a 15-minute drive from Kanyanchu,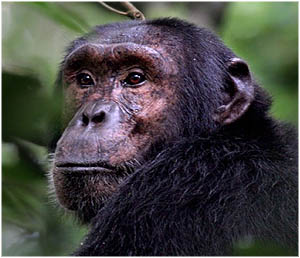 the starting point of UWA chimp-tracking and other activities in Kibale Forest. Chimps' Nest also borders the Bigodi Swamps.
The lodge is an excellent starting point for day trips to the crater lakes, Semuliki National Park, Semliki Wildlife Reserve and the Rwenzori Mountains.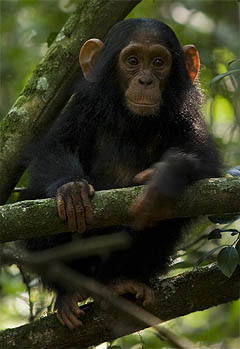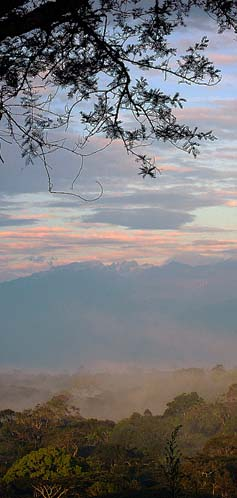 A visit to Chimps' Nest means you will have a good and comfortable stay in our original and cozy self-contained cottages, family cottage or self-contained budget rooms. Our restaurant serves tasteful meals in a warm and inviting environment where you can enjoy our friendly service. All cottages are positioned to guarantee optimal privacy. From your private balcony you can enjoy the wildlife and the magnificent view of Kibale Forest, with the surrounding sounds of birds, monkeys, chimps and elephants.
We value excellent customer care, high-quality service, enthusiasm, safety, and care for the

environment. Our friendly and helpful staff members are all locals. Whenever possible we buy our supplies from the surrounding villages. You're welcome to try our local honey, peanut butter, tea and filtered coffee.
Chimps' Nest cares about preserving the environment and natural resources; local people built it using natural materials and the electricity we use is solar powered (you can charge your batteries for your phones, laptops, cameras etc. at the reception). All this makes Chimps' Nest an eco-friendly lodge.
According to the Lonely Planet
our pick Chimps' NestThis brand-new stunner of a lodge borders Kibale Forest and Magombe Swamp, and there's a lot of wildlife around including a profusion of birds, and sometimes elephants and chimps.

The camping ground is peaceful and the cottages are lovely, but take the treehouse if you can. It's perched up in the canopy and has great views right from the bed. The sun powers them all, so there's no generator rattle to ruin the mood.
Visitors can choose cottages, family cottage or budget rooms. Our tree houses inside the forest are closed until futher notice. We have long beds in the rooms (2.30m)

Activities: Chimp trekking, bird watching, night walks, take a nature walk through Kibale Forest or the Bigodi Swamp area, visit local people, visit one of the crater lakes or go for a swim.
Chimps' Nest is only 15 minutes away from the starting point of the chimpanzee tracking and other activities in Kibale Forest. The starting point of the Bigodi Swamp Walk is only 5 minutes away.

Take a walk on one of our private walking trails and explore the jungle. (Photos from the walking trail are visible in the photo gallery)

If you are looking for a place to stay in midrange, where the European management finds hygiene, silence, comfort and quality most important, Chimps' Nest is the place for your visit!

Chimps' Nest is a true birder's paradise, with virtually all 350 bird species of Kibale Forest and the bordering Bigodi Swamps. Our birding guides are happy to show them to you.