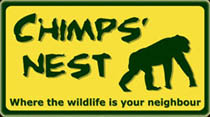 Chimps' Nest was establised by two fanatic Africa travelers from the Netherlands, Jeroen van Rooij and Vincent van 't Hof.
'We are both wildlife photographers and love Africa's abundant wilderness. With Chimps' Nest we have created a lodge in the way we think a lodge in Africa should be: Built on a beautiful piece of land with a splendid view of the forest, in a national park, with all the wildlife surrounding the lodge'.
Chimps' Nest is daily visited by monkeys and sometimes even by forest elephants and chimpanzees! Chimps' Nest is a birder's paradise. Virtually all the birds of Kibale Forest and the bordering Bigodi Swamps are visible on the premises of Chimps' Nest. This means more than 350 bird species. Explore our private walking trails through the forest to see it all by yourself! Both in the daytime and in the nighttime!

A stay at Chimps' Nest means you will have a good and comfortable stay in our original and cozy self-contained cottages, have tasteful meals in our restaurant and enjoy our good, friendly and quick service.
All cottages are positioned in such a way your view on Kibale Forest and your privacy are optimal. So take a seat on your private balcony and enjoy the wildlife and view of Kibale Forest, with the sounds of birds, monkeys, chimps and elephants.
Chimps' Nest cares about preserving the environment and natural resources; we built it with the help of local people, using natural materials, and our friendly and helpful staff is also from the area of Chimps' Nest. Where possible we buy from the local villages to let them benefit from the lodge too. Try our honey, peanut butter, tea and filtered coffee! Just a few iproducts from this area. We use solar power and separate our garbage to be as eco-friendly as possible!
We value excellent customer care, high-quality service, enthusiasm and safety. So if you are looking for a good place to stay, medium range, Chimps' Nest is the place to be.
You are most welcome in our lodge!
CONTACT:
[email protected]
Kind regards,
Jeroen, Vincent  and the staff of Chimps' Nest